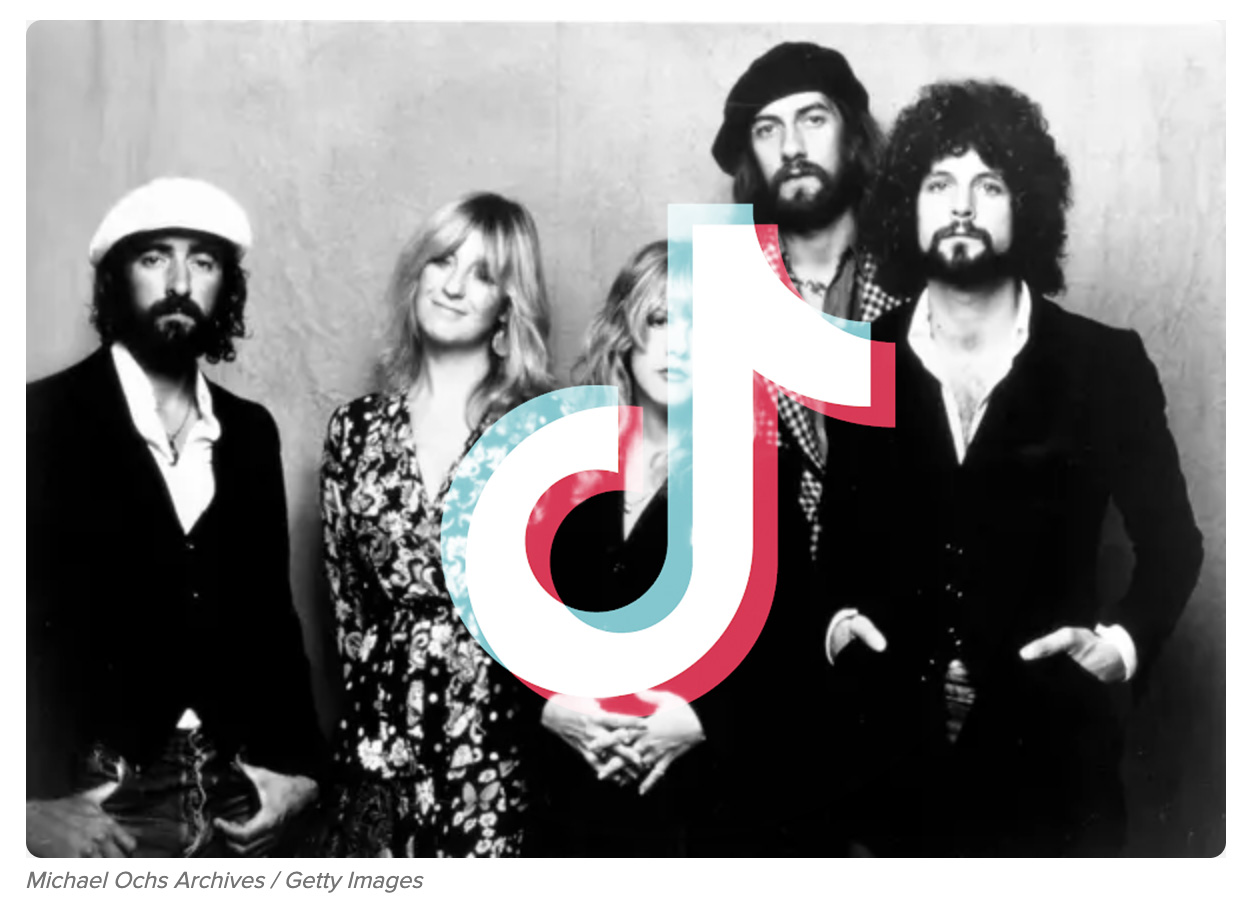 A Tale of Two Brands Going Viral on TikTok
Two brands went viral on TikTok recently, but it didn't happen the way you might expect. It wasn't the result of marketing meetings, campaign planning, rounds of changes and approvals. It happened because average people were propelled into the spotlight simply by making good content. One company embraced the attention. The other–not so much. Here's what went down.
A man on a skateboard + Ocean Spray cran-raspberry juice + Fleetwood Mac = a viral sensation
Back on September 25, Nathan Apodaca's (@dogface208) car broke down, so he took his skateboard to work. Nathan took an otherwise stressful situation in stride. He filmed himself skateboarding to work, singing along to "Dreams" by Fleetwood Mac and drinking Ocean Spray's cran-raspberry juice from the bottle. The TikTok has 11.6 million likes and was even recreated by Fleetwood Mac's own Mick Fleetwood.
The serene video made Fleetwood Mac come soaring back to the charts and Ocean Spray's sales skyrocketed. As a thank you, Ocean Spray gifted Nathan a brand new truck (in a cranberry color, of course) and a truckload of cranberry juice. Fans ended up donating enough money to help Nathan purchase a home. Nathan has newfound fame—and thousands of similar videos have been inspired by Nathan—all with Ocean Spray cran-raspberry juice in hand.
Ocean Spray embraced Nathan's out-of-the-box content in the best way. And they were rewarded with an increase in sales, brand awareness and public perception.
Sherwin Williams dismisses employee and his viral content
TikTok user Tony Piloseno (@tonesterpaints) was a paint mixer at Sherwin Williams. According to Buzzfeed, he started filming TikToks while he was mixing paint for customers. He enjoyed mixing paint and thought other people might like to see it too. The hypnotizing content amassed a large following (Tony's account currently has 1.4 million followers). As his following grew, he started purchasing cans of paint with his employee discount to create more videos.
https://www.tiktok.com/@tonesterpaints/video/6818650251042360581?sender_device=pc&sender_web_id=6896274964862649862&is_from_webapp=1
Realizing the success of his TikToks, Tony wanted to pitch his concept to the Sherwin Williams' marketing team to show how the brand could connect with a younger audience. His manager and a sales rep loved the idea, but the marketing department didn't find his idea useful. According to Tony, since there weren't any marketing promotions going on, the marketing contact did not want to see Tony's pitch.
A few months after reaching out to the marketing department, Tony was ultimately terminated from Sherwin Williams. According to his termination letter, he was let go because he "used tint machines while both on the clock/and off the clock for your personal use…Upon conclusion of our investigation, it has been determined you are in violation of several gross misconduct policies." A Sherwin Williams spokesperson said Tony was fired because of a customer complaint.
As for Sherwin Williams, while some people agreed on social media that "rules are rules," a lot of people saw his firing as a botched marketing opportunity for a 154-year-old brand to connect with a new audience.
Tony's story isn't over–another brand, Florida Paints, saw the potential in Tony and recently hired him.
https://www.tiktok.com/@tonesterpaints/video/6898720259675540742?sender_device=pc&sender_web_id=6896274964862649862&is_from_webapp=1
The takeaway? Embrace creativity. The best ideas often come from the most unexpected sources.
TikTok and Your Brand
If you're inspired to start a TikTok for your brand, take note of what lessons we can learn from both Ocean Spray and Sherwin-Williams:
Think outside the box or bottle or can – Figure out what interests your target audience. You have access to what goes on behind-the-scenes in your organization. What may seem run of the mill can be fascinating to someone who isn't used to that type of access (think the paint videos). Share that information in an engaging way.
Trust your passionate employees – Your employees are your best brand ambassadors. Embrace new ideas and encourage creativity. Innovative marketing ideas can come from outside of your organization's marketing team.
Make it organic – Instagram is polished and planned. TikTok feels more organic—after all, Ocean Spray got millions of eyes on its brand without a food stylist in sight (we <3 you food stylists).
Keep up on Trends – There are new trends on TikTok all the time (hang out on the For You page for a while, you'll recognize them quickly). If you can think of a clever and appropriate way to incorporate your brand into the latest trends, go for it!
Want more? Check out these articles related to the subject.
Sherwin-Williams Paints Itself into a Social Media Crisis Corner
PR News' Nicole Schuman (@buffalogal on Twitter) takes a deeper dive into the importance of Sherwin Williams' internal communication and more.
A College Student Behind A Massively Popular Paint-Mixing TikTok Page Was Fired From Sherwin-Williams
Fleetwood Mac's "Rumours" Is On The Billboard Charts Again Because Of That Viral TikTok