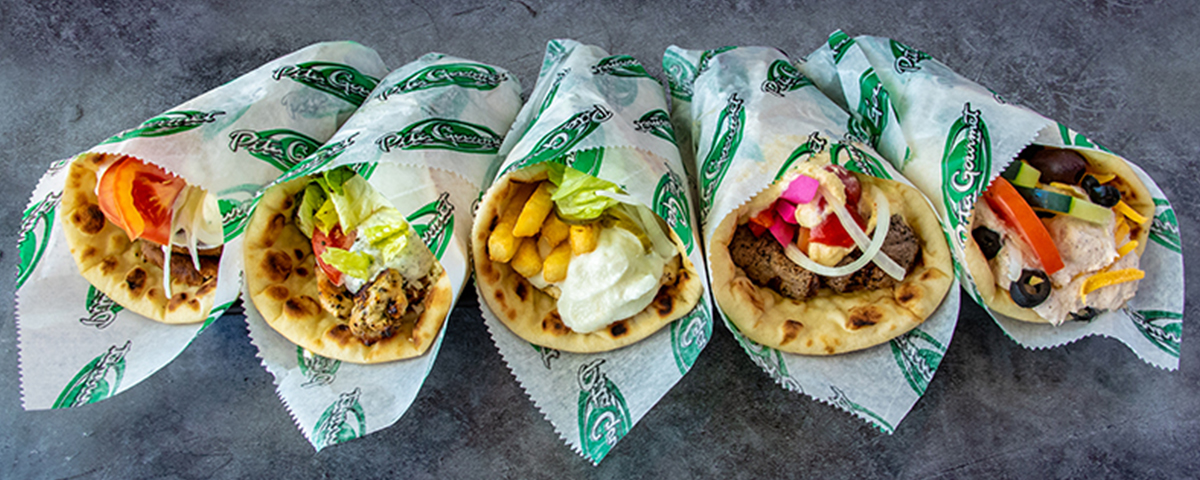 Growth and New Locations
In 2005, Pita Gourmet started out as a humble food court vendor in the Niagara Falls Outlet Mall. Eight years later, in 2012, the doors to the second Pita Gourmet opened on the corner of Transit and Wehrle in Williamsville, with a capacity of about 50 people and typical lines out the door during lunch.
Thanks to the creativity, passion, and tenacity of the Mahfouz family, Pita Gourmet opened the doors to their third location just this month! Members of the Manzella team attended the opening and had a great time enjoying the food and getting to know the family of this locally owned business.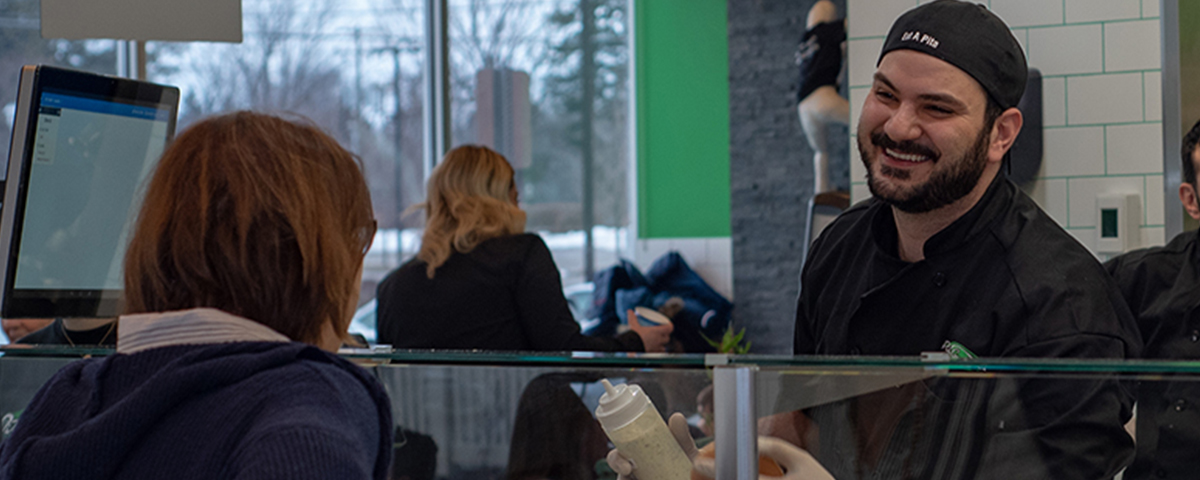 By expanding their footprint and being able to accommodate over 90 people, the new Pita Gourmet boasts an impressive atmosphere that showcases their patented Mediterranean fast casual dining experience. The space was designed by Bevilacqua Development and features the Buffalo skyline as well as 3D figures climbing up the wall to reinforce their "Keep on Climbing" philosophy. With almost 400 reviews and 4.5 stars on Google, they seem to be well received in the Buffalo area.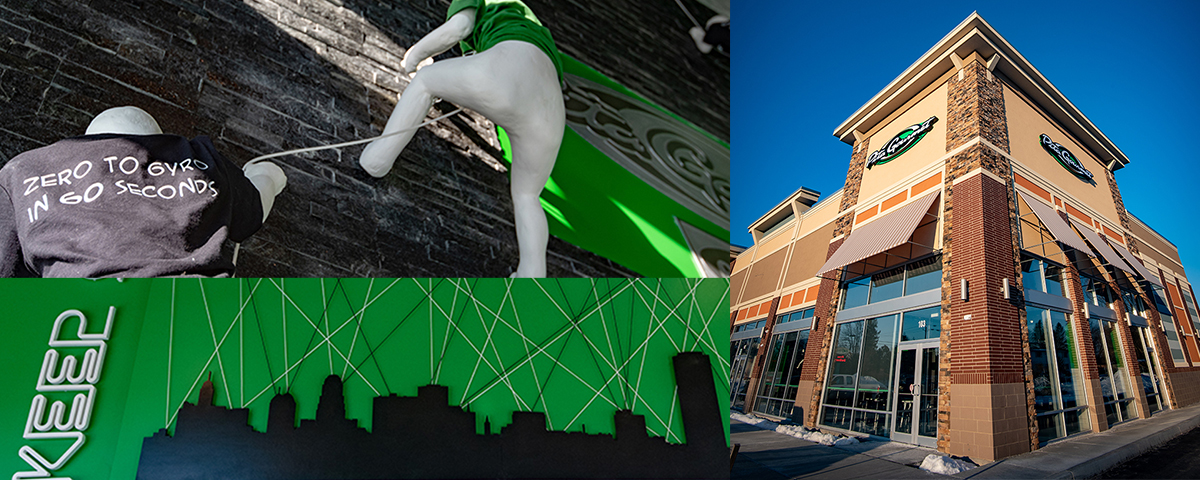 Fast, Casual and Health Conscious
The key to Pita Gourmet's success is the fusion of Mediterranean style foods the Mahfouz family grew up on with a mix of Buffalo classics. With four types of customizable salads, eight different pitas and wraps, and countless toppings, homemade dressings, and sauces—you can tailor your lunch or dinner to fit any dietary preference.
"Not Fast Food, but Great Food Served Fast" is the dining model Pita Gourmet has leveraged into a successful enterprise by combining the elements of quick and customizable ordering with health-conscious offerings. During the busiest time of the day at the Transit and Wehrle location in Clarence, you can get in and out with your made-to-order lunch in less than 10 minutes! If you're really in a pinch and need to order lunch or dinner quick, the new East Amherst location offers online ordering!
Their menu is diverse, featuring homemade traditional classics such as:
Baba Ghanouj: a dip made of

cooked eggplant, tahini, and seasonings
Tzatziki: a yogurt-based cucumber and herb sauce
Falafel: a fried ball of mashed chickpeas and seasonings

Baklava: a rich sweet pastry made of layers of filo dough with chopped nuts and held together with syrup or honey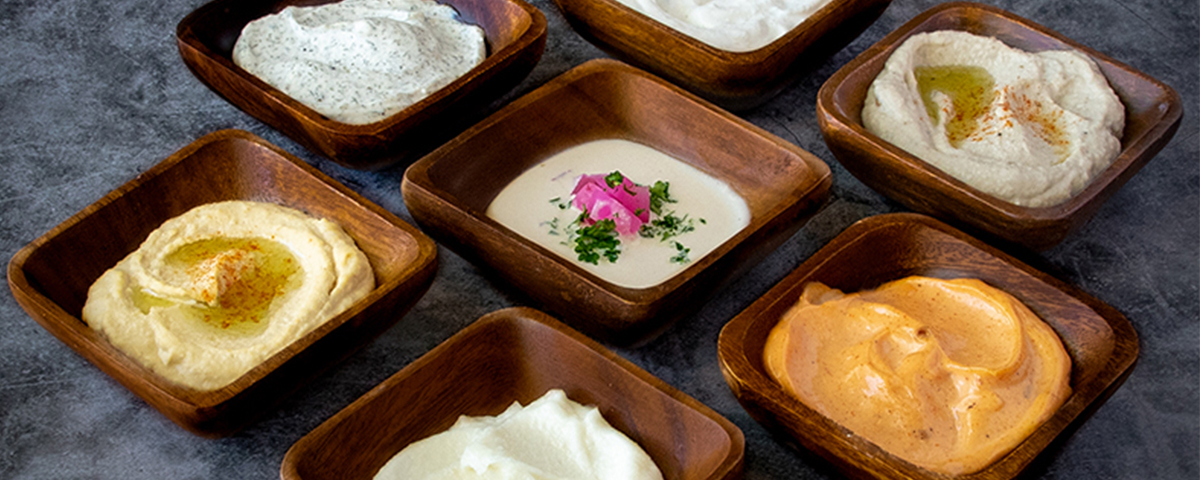 Or if you are in the mood for something with a local flavor try the Buffalo chicken wrap with homemade buffalo sauce, chicken, lettuce, tomato, and onions.
Account Acquisition and Tactics Implementation
Pita Gourmet reached out to Manzella Marketing in February of 2019 and asked us to help take their business to the next level. Be sure to check out Pita Gourmet's social media accounts and enjoy the creativity and collaboration of Pita Gourmet and our Social Media Manager, Kristin Rozewski, Digital Specialist, Gabriel Buck, and Visual Communications Director, Eric Tuberdyke!
Follow along and see what Pita Gourmet is up to: