Manzella Marketing has been serving our clients longer than one-third of our employees have been alive. It's been over 30 years since I opened the agency, then shortly thereafter left my full-time job to devote 100% of my attention here. So it's safe to say, I'm deeply invested in our success, with a hunger and devotion to be the best agency we can be. And it goes without saying, my responsibility is to lead others to do the same and help support them in many ways. I am fortunate so many of our employees have a similar passion, as over one-third have been working here for 12+ years.
We've had good years, great years, and not so memorable ones – but like many other small businesses, this will be one we'll always remember. From the inception of Manzella Marketing, we've been very strategic in how we've evolved with the ever-changing consumer buying habits, starting with a direct mail focus in the 90s, but today providing expertise in web, social, and digital. But what we never anticipated was a global pandemic threatening to destroy our economy, our incomes, and take the lives of many of our loved ones.
We've had to rethink our current processes and work to be better than we ever have been. Simply being "good" is not good enough. We want to be "great". We want our clients to love working with us and our employees to wake up every morning and look forward to coming to work.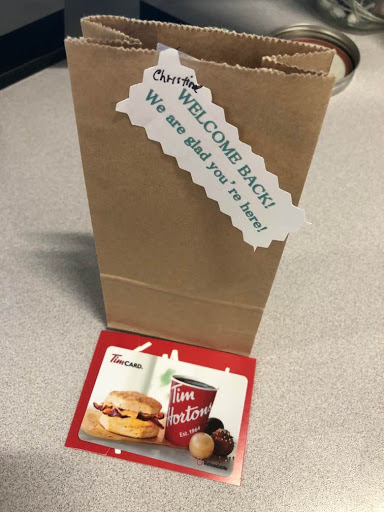 Herein lies the issue – many of America's employees have become so accustomed to not coming to work, but rather working from their homes. As convenient as this sounds, employees are working without face-to-face co-worker interaction, and without the collegiality and collaboration that comes as a result. But studies show teams that collaborate and work synergistically are more productive as a whole than those that don't.
How does working from home impact productivity?
According to Stanford Economist Nicholas Bloom, "working alongside our kids during the pandemic, in unsuitable spaces, with no choice and no in-office days will create a productivity disaster for firms. In-person collaboration is necessary for creativity and innovation". His research has shown that face-to-face meetings (even in masks) are essential for developing new ideas and keeping staff motivated and focused. In fact, the coaction effect, a psychological theory developed many years ago, suggested there were levels of improvement in individual performances merely by being in the physical presence of another individual doing a similar task.
One thing I've learned after 30 years is the importance of establishing a positive company culture here at Manzella. According to Coworking Resources, an unfortunate consequence of working remotely is the deterioration of company culture, which can negatively affect productivity, satisfaction, and employee retention. The lack of social interaction additionally hurts workplace engagement, and you can argue that higher engagement correlates to higher customer loyalty, productivity, and ultimately an overall level of success.
Bringing employees back safely
Now that non-essential businesses in NYS are reopening, these businesses need their employees to feel comfortable to return to the office. At Manzella, we've followed the NYS safety guidelines closely and have made this the safest work environment it can be, so employees feel comfortable returning to the office.
To expect their office employees to come back, businesses absolutely need to follow safety guidelines – spacing their workstations, providing temperature checks, free masks, disinfectant wipes, hand sanitizers, and thoroughly cleaning the workplace on a daily basis. If your company is not doing this, I encourage you to speak to the owner or management team to ensure this happens right now.
We're seeing many positive signs as our economy once again is growing – unemployment is on the decrease and the stock market is performing better than expected. It will take all of us collectively to stretch our legs and get back in the race. Sure, we may have faced pitfalls in the 100-yard dash, but we're actually running a marathon. We can only maintain this momentum by following safety measures to keep ourselves safe and do our part.
This pandemic has helped me to take a step back, take a deep breath, and better understand how thankful we should be for everything we have. Despite the unprecedented circumstances, we at Manzella Marketing have been extremely fortunate to be able to maintain our entire staff. I could not be more proud of our hard-working team, each of whom have not let the pandemic get in the way of their spirits, drive, or dedication to their work.
Prior to COVID-19, some companies operated remotely, and now more than ever, more and more companies are doing it. But what technology can't replace is that "feel good" feeling we get after working synergistically with colleagues or having a personal exchange with a coworker. By staying safe, we open the doors to reuniting with our team and keeping our company culture alive and well – and here at Manzella Marketing, we couldn't be more excited to get back to "normal".