From feel-good, to funny, to well…strange.
I started working on this blog
thinking it would point out the most-liked and least-liked Super Bowl ads from our Manzella team. We watched the ads, everyone provided great feedback on their best/worst picks, but as I started compiling them what seemed to be the least-liked ad by our team—turned out to be my top pick. And that would be…Oatly. Yes, the "wow, wow, no cow"-singing-guy-in-a-field-playing a keyboard-commercial. I'll explain why in a bit, but first, let's see what our team had to say.
The wins
By far, and not surprisingly, the most loved ad was Toyota's Hope and Strength spot framed around the story of 13-time US Para Gold Medalist, Jessica Long. They manage in one minute's time to capture the essence of her story – from an orphan in Siberia with a condition meaning her legs would need to be amputated – through her journey as a young girl and on to Olympian. "I was nervous and scared at times to be the only girl missing legs on the swim team. That's really intimidating sometimes…I just had such determination and a spirit to keep fighting," Long said.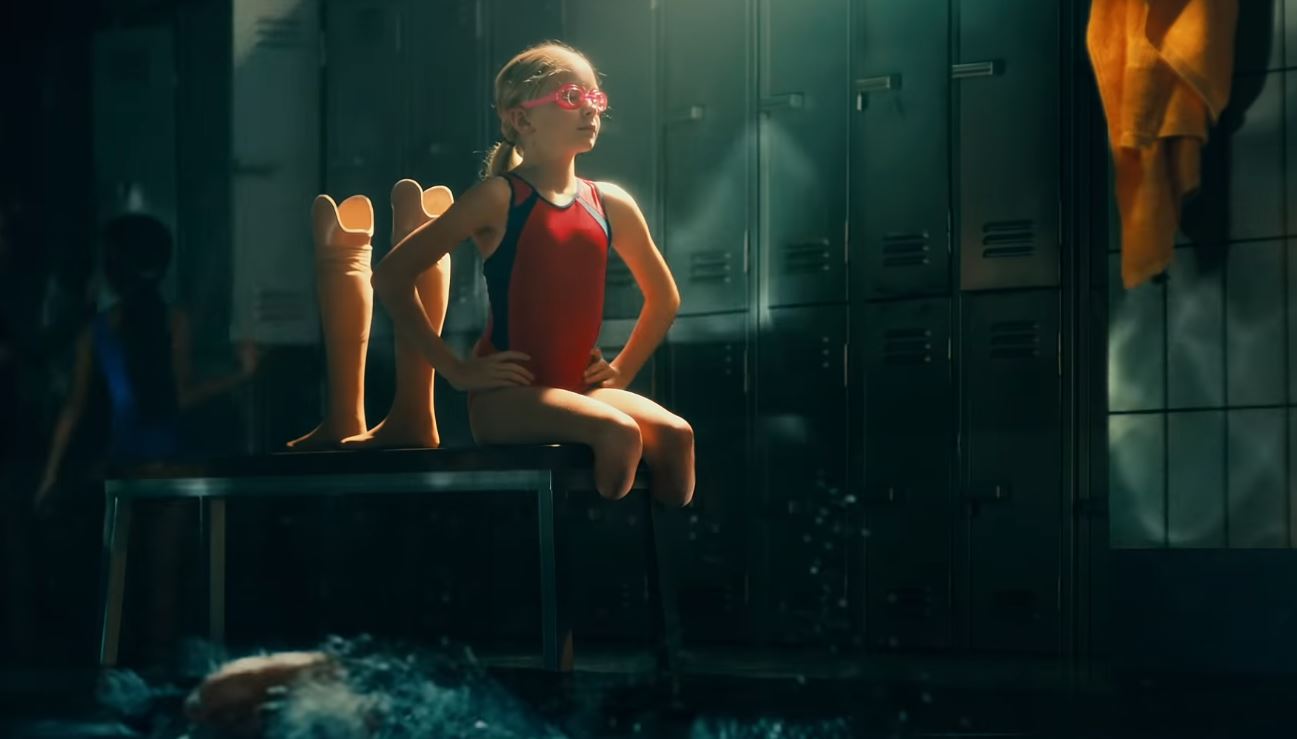 And doesn't that really touch on the last year which we've all been through? Times have been intimidating, many of us not knowing what is to come, feeling alone or isolated—just as she was portrayed in the locker room scene.
The ad strikes a chord of motivation and pulling through. This ad touches on so many emotional levels and I think it really connected with so many people in their own way. To be honest, Toyota didn't need this spot to showcase new vehicles and boast about their climate control—but they pulled off a visually creative story that sure got people buzzing. Here's what some of our team had to say:
"Inspiring story of resilience and strength"—Tom Sharer, Art Director

"Feel good emotional inspiring moment. Without saying it, they communicated that love knows no boundaries and you will get through the tough times. Loved it!"—Denise Miller, HR & Office Manager

"Can't watch this one without tearing up. Super cute story about adoption but at the same time, it was filmed really cool with her being in the water the whole time."—Caroline Moser, Web & Graphic Designer

"I thought it was inspiring and a change from most of the commercials that were meant to be humorous."—Brooke, Intern
At 2nd place both here at Manzella, and in USA Today's Super Bowl Ad Meter, which asks the public to rate ads online with a score from 1 to 10, is Rocket Mortgage's "Certain Is Better" spot. I'd like to find a way to dig into the psyche of this ad and why it resonates with people, but I can't. It's just funny. And it does a good job at making us laugh—nice and fun distraction from all things reality.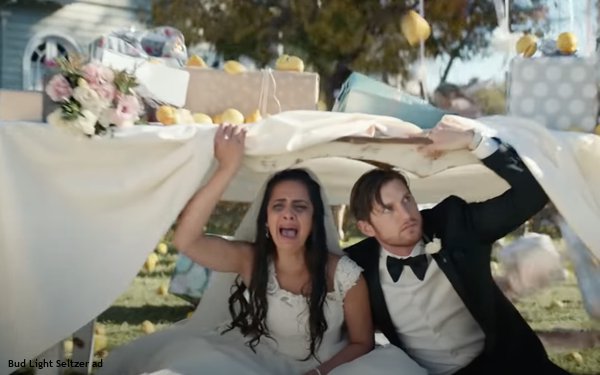 No convoluted complex message was needed here, simply that "certain" is better than "pretty sure"—and Morgan illustrates those differences well. Me: I'm not a fan of the ad. It's probably not surprising to anyone who knows me that I'm going against the grain here. And I can't get "wow, wow, no cow" out of my head. Getting back on track here, let's see what our team thought.
"When pretty sure isn't enough…the back and forth of instability done in a comedic fashion."—Tom Sharer, Art Director

"It keeps you laughing and uses simple tactics to drive the point that you can be certain about your mortgage using Rocket Mortgage."—Jim Manzella, President & CEO

"I was looking for humor, and the silly "pretty sure" scenarios Tracy Morgan presented … had me laughing."—Shandra Holt, Creative Director
Other favorites were Tide, Jeep and Sam Adams. Associate Creative Director, Steve Ketterer says of the Tide spot featuring Jason Alexander, "The different facial expressions on the shirt were hysterical! Kudos to the art director for getting that perfect."
Jeep's ad featuring Bruce Springsteen is top pick for VP of Business Development, Scott Fierle. "It was a timely, patriotic message that made me anxious to find out who the advertiser was. I love how subtle the Jeep logo is at the end with the red, white and blue icon and 80th after it."
Account Manager, Karlie Routledge gives the Sam Adams spot 9 out 10: "Honestly, the Boston accent and "Wicked Hazy" being the name of Sam Adams new beer is pretty great."
Wow, wow, no cow
Now the fun part—to me at least—fails in our eyes. The spots our team feels fell short. The Sketchers ad featuring Tony Romo—it fell as flat with our team as Matthew McConaughey in the Doritos ad. We see Romo and his wife (who is she? why is she in this ad? am I missing something?) strolling through their "home" (I put that in quotes because I doubt that's his actual home) talking about how comfortable these Sketchers Max Cushioning sneakers are, with Romo yelling out some highly annoying "Bams".
"This one was doomed from the start. The shoes are ugly. I don't know how you would sell them, but the commercial really leaned into the mom/dad vibe."—Caroline Moser, Web & Graphic Designer

"Because I'm sick of seeing how rich people live."—Eric Tuberdyke, Visual Communications Manager
Another much-loathed commercial by many is Oatly's. This ad is set in the oat fields of Sweden  with its CEO singing an off-key song at a keyboard about how oat milk is like milk, but made for humans.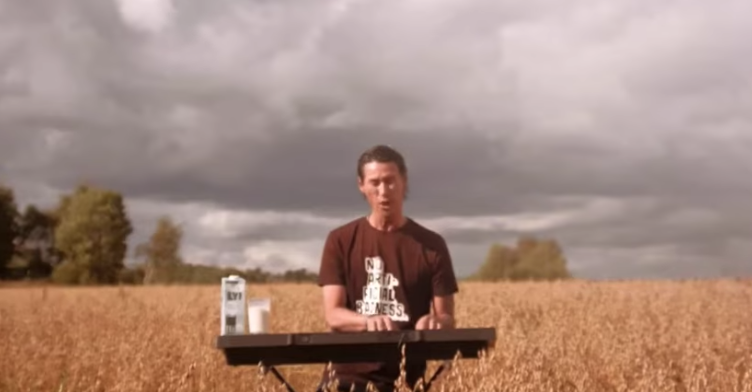 The takeaway was that Oatly had wasted millions of dollars on an epic failure of an ad. "Uncomfortably awkward "Napoleon Dynamite" vibes abound" wrote the Washington Post (don't they realize what a cult classic ND is?!).
Tom Sharer says "That commercial was so bad I'll never buy Oatly milk. Ever." Shandra Holt says "Just too weird. If that's what happens when you drink oat milk, there's no way I'm touching the stuff."
So, why do I love it? I don't know exactly, maybe because I like to back what others like to hate. I don't even drink oat milk—and I never will. I like its quirky-ness. It's so bad, it's good. I like a brand that doesn't take itself too seriously and is willing to be risky. Just think about the meme potential!
But there's a bigger story to them being a winner in my eyes. First, from a marketing perspective: hours before the Super Bowl aired, Oatly made available 500 t-shirts on their website.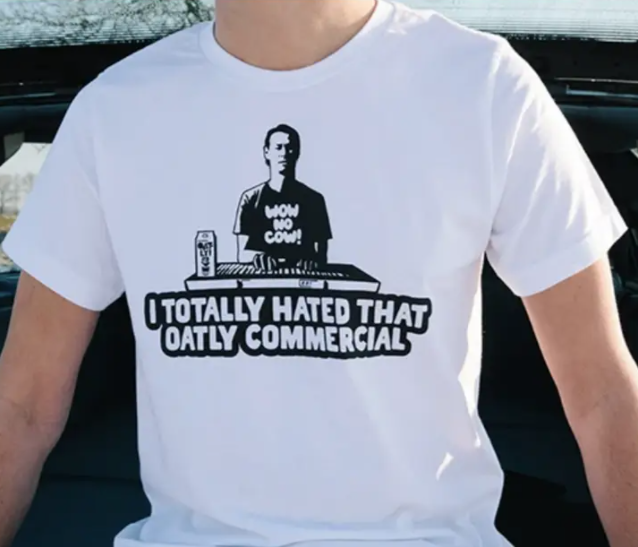 What did the t-shirts say? "I totally hated that Oatly Commercial". Brilliant! And they sold out in minutes after their spot aired. This ad got people talking—good or bad—they were talking. Twitter was buzzing. Their IG is blowing up. Any publicity is good publicity, right?
On their website they admitted,
"The rules of time and space make it impossible to give you back the 30 seconds you just spent watching our Super Bowl commercial, but at least we can give you a free t-shirt…".
Oatly has been known for their quirky advertising as can be seen in a few of their outdoor ads here and here.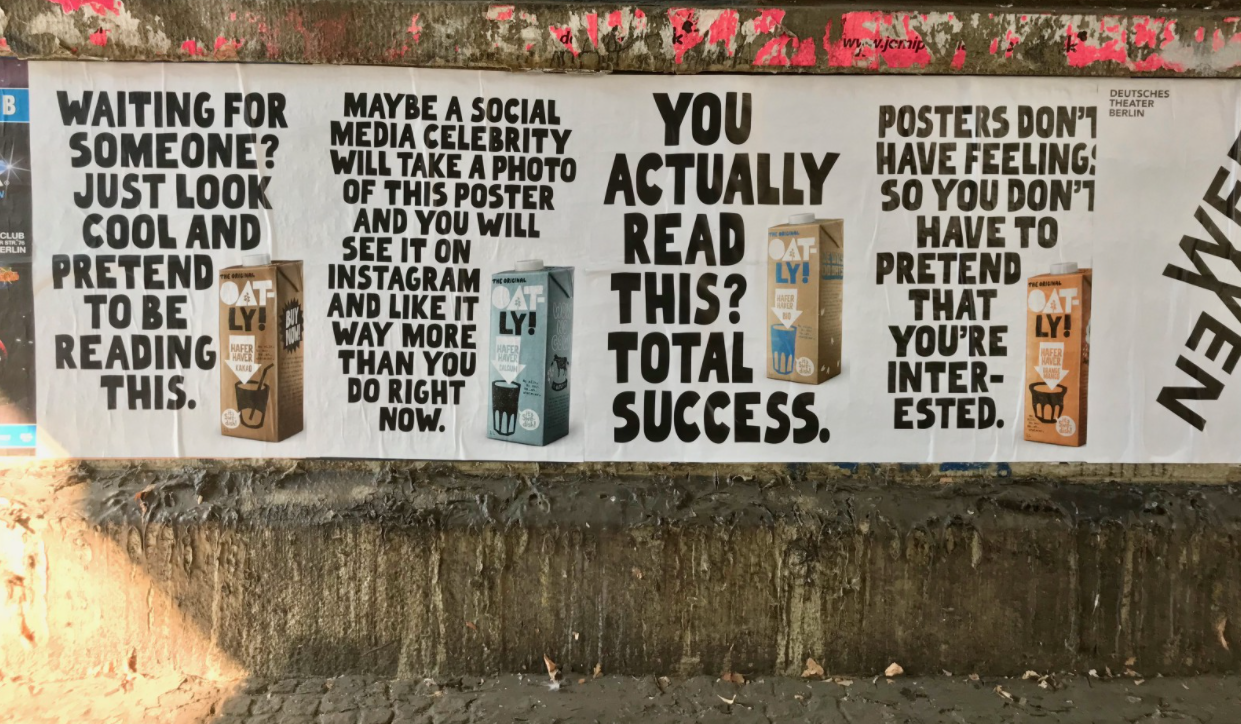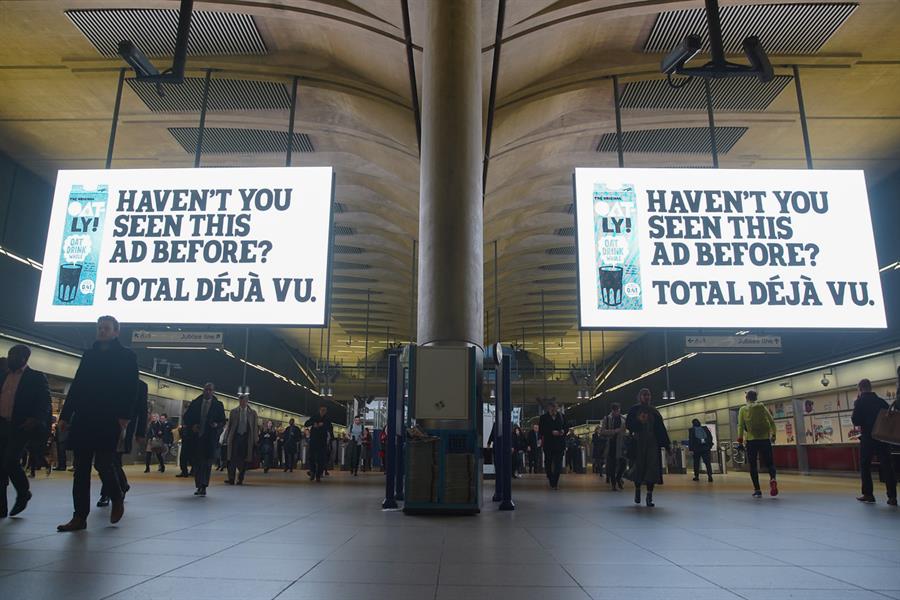 Now from a business perspective: according to Bloomberg, Sweden-based Oatly AB is working with advisers on an initial public offering coming as soon as May. And they're considering seeking a $10 billion value in a US IPO. Last July, the Wall Street Journal reported the company was worth $2 billion. They also have a deal with Starbucks and sold a $200 million stake back in July, an investment backed by Oprah, Natalie Portman, the entertainment company founded by Jay-Z, and former Starbucks Corp. Chief Howard Shultz.
The company has doubled its sales between 2018 and 2019. According to Bloomberg Businessweek, Oat milk sales in general jumped from $4.4 million in 2017 to $29 million in 2019. Apparently, there's talk of oat milk edging out almond milk someday.
Personally, I'm curious to see where this brand goes in the next few years. We could all be saying "wow, wow!"